FEAR THE WALKING DEAD




'We Are Coming for You' Trailer




Season 5 Preview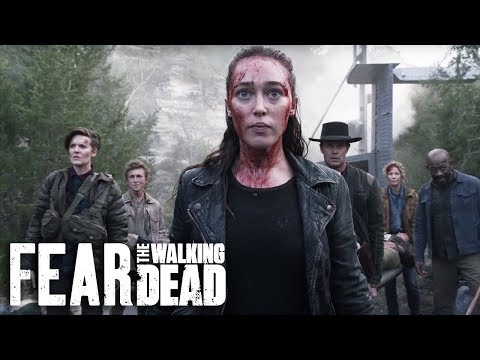 "The way out is to open the door...to people...to possibility...to the hurt that will happen."
Just like the original series, I love how Fear feels different every season and sometimes every episode. It's got a story to tell and it tells is in often harrowing but also hopeful ways. It's also terrifying, not just in the various designs of walkers and all the ways they find to put our beloved characters in peril, but all the ways they terrorize each other, how some try to move past hate and fear, all the ways they grieve, grow, and learn to forgive or live with the pain and trust again.
All the people who have come and gone have made more of an impression than most TV dramas. These ordinary people fighting for their lives in the most extraordinary of circumstances, where one walker popping up around a corner can be as dangerous as a horde; learning how to live on the run; trying to eke out an existence in the ruins of the past; trying to find a place to call home and protect loved ones at all costs.
Alycia Debnam-Carey and Lennie James | © AMC Studios
Speaking of loved ones, since I don't think I actually got a chance to write about this before. I was so shocked when Travis died. Cliff Curtis played him with a big heart and I loved him for it. I imagined he would make it to the end, the way I imagined Rick (the stellar Andrew Lincoln) would always be there on TWD. No one is untouchable, but I always hoped. The loss of Travis was a blow. Then Ofelia, Nick, and Madison (Kim Dickens) followed. All devastating surprises after everything they went through. Madison's death was courageous and respectfully done, and I was reminded of this when Rick's last episode aired. Both endings were beautiful sacrifices for the people they loved.
To lose so many of those people and keep me as a viewer requires a great script, actors who really dig into their roles, and an entire crew dedicated to making something meaningful. All is not sadness and loss, though that is the end result for us all. Hope pervades. People and connections at the end of the world persist. It was lovely to gain people like Lennie James, Garret Dillahunt (@garretdillahunt) and Jenna Elfman (@JennaElfman) to follow in the footsteps of those who started this series and to walk paths of their own. I'm so happy to be getting another TWD alum in Austin Amelio for season five. Wow, season five already. Here's to another five.
Oh, yeah, and before I go...
Rubén Blades | © AMC Studios
"You still talk too much, Victor."
Daniel! Yay, it's been a whole season without him and he already went missing for a while once before. Rubén Blades had one of the best episodes in the series all to himself, so I sure hoped he would resurface.
---